The Entrepreneur's Guide to Getting Killer Business Funding without Affecting Your Credit Score
When you're an entrepreneur needing funding for your small business or startup, shopping for loans can leave your personal credit in rough shape from the barrage of hard inquiries. Having a good credit score is key to maintaining borrowing power and financial flexibility, not to mention having access to great rates when shopping for home mortgages or car loans.
The good news is, there are several legitimate entrepreneur funding options which have little to no effect on your personal credit. While you will always have to exchange something for funding, that something doesn't have to be your credit score. For instance, investors will provide funding in exchange for part ownership in your business. Some online lenders will provide loans without reporting to a credit agency (protecting your credit from hard inquiries), but they require multiple payments per month, which might make your budget tighter. It all comes down to which assets you you'd prefer to leverage in place of your credit score.
I'll begin with the most challenging (but most sexy) method: Angel Investing.
Entrepreneur Funding: Angel Investing
Scenario: A financially strapped, yet enterprising, individual has a killer idea. A curious, wealthy individual wants to see ingenious ideas turn into profitable ventures. The stage is set for a mutually beneficial angel investing relationship.
"Angels are considered one of the oldest sources of capital for start-up entrepreneurs; the term itself, by most accounts, comes from the affluent patrons who used to finance Broadway plays in the early twentieth century" (Colleen Debaise from The Wall Street Journal).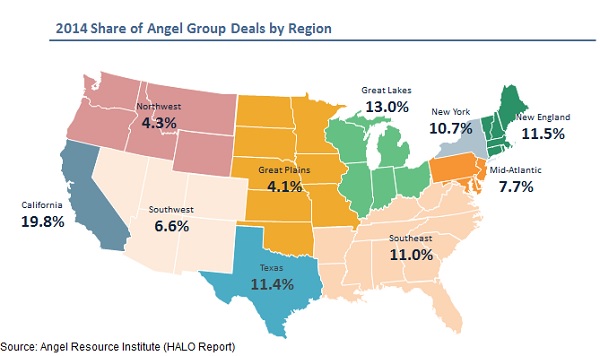 Instead of a traditional business loan where you pay interest on a set amount of borrowed funds, angel investing requires a piece of equity (percentage of business ownership) in exchange for entrepreneur funding.
Angel investing is challenging. You will have to build a strong business plan (using all the proper terms and financials), develop decent presentation skills, and be ready for a whole lot of rejection. Rejection is okay, though, so long as you eventually snag that key investor (or investors) that will help you take your business to the next level.
Getting started with angel investing requires you to seek help from a number of professionals and business networks. You will need to consult with attorneys and accountants. Most importantly, you will need to hustle – travel even – and be willing to take social risks to meet the right people. You can begin by looking for the nearest startup incubator or business advisor group such as SCORE.
"It's my rule of thumb that it will always take longer to raise angel financing than you expect, and it will be more difficult than you had hoped. Not only do you have to find the right investors who are interested in your sector, but you have to go through meetings, due diligence, negotiations on terms, and more. Raising capital can be a very time-consuming process" (Richard Harroch from Forbes.com).
Is angel investing right for me?
If you have sales experience, thick skin, and need entrepreneur funding in excess of $1 million, angel investing might be a great fit for you. It is ideal for young people that want to build something, launch, and then sell. Angel investing can be an emotional experience that requires a great deal of personal self-efficacy and professional collaboration. If this sounds like fun to you, you may be cut out for the challenge.
If you get nervous around people, have difficulty receiving criticism, or feel uneasy about sharing ownership in your business, then other entrepreneur funding options might be a better fit.
Entrepreneur Funding: Crowdfunding
Strangers as well as professional and non-professional investors can contribute to new business ventures through crowdfunding sites. The concept is straightforward: you set up an account, promote your cause, and interested parties contribute financially.
If you want a quick introduction to the leading crowdfunding sites, Quickbooks/Intuit lays it out nicely. For a more exhaustive list, consult ConsumerAffairs. Most people have heard of GoFundMe and Kickstarter, but the crowdfunding industry is a relatively new development in the world of entrepreneur funding and is expanding quickly.
Is crowdfunding right for me?
If your business venture is a non-profit or closely connected with a good cause, crowdfunding could be a lucrative option for you. You will want to engage your target audience, friends, and family with heavy social media updates and calls-to-action.
Entrepreneur Funding: Installment and Personal Loans from Online Lenders
The online lender industry provides a wide variety of installment loan options with fast deposits. These are often a promising option when entrepreneurs can't get loans anywhere else. Those with high credit scores can often find an online lender providing installment loans that may or may not have a negative impact on their credit.
The most easily recognized installment loan is a car or home loan. The financed amount, interest rate and a pay back schedule are all fixed from the beginning. Installment lenders are concerned with your ability to pay back. For this reason, they will want to see paperwork like a utility bill, pay stubs and bank statements verifying your income. Some report to credit bureaus and some do not.
As you shop online lenders, be sure to find out whether they pull a hard or soft inquiry on your credit. If you want your credit left pristine, only consider those lenders who pre-approve through "soft" inquiries, which, unlike hard inquiries, will not affect your credit score. Magnify Loans offers a comparison of installment loans and informs you of which companies pull a hard or soft inquiry for loan approvals.
One thing to bear in mind is that if you are launching a new business, you will likely have to shop for personal loans rather than business loans. If you have operated your business for longer than a year, you will have more options for business loans and further protect your personal credit.
What is loan stacking? Is it bad?
In recent years, borrowers have taken advantage of online lenders by simultaneously seeking multiple online loans from different lenders, many of whom do not report to the credit bureaus. This bypasses the credit bureau system which exists to protect both the lender and the borrower.
"The practice is proliferating in the [online funding] sector – led by LendingClub, OnDeck and Prosper Marketplace – because of many lenders' hurried, algorithmic underwriting, use of 'soft' credit inquiries, and patchy reporting of the resulting loans to credit bureaus, according to online lending and consumer credit experts" (Reuters).
Since many of these online lenders issue installment loans that do not report to the bureaus, borrowers that loan stack typically become buried in debt that they cannot get out of. Whatever lending option you choose, you should always borrow at minimal risk. Stacking loans often involves compounding interest rates and multiple monthly payments that can only be maintained at the expense of one's sanity.
New companies, like Clarity Services, Inc., now exist to help lenders detect borrowers who play the system and loan stack. As the industry develops, borrowers who intentionally loan stack risk being blocked altogether by online lenders.
The strategy of "stacking" is not altogether bad, but there is a much safer way to do it that will not be frowned upon by lenders. The solution might surprise you: personal and business credit cards. Credit cards are revolving lines of credit, meaning that you are only paying back on what you use and not on the total available balance. Banks can respond to credit alarms by freezing credit card accounts, protecting themselves and the borrower from becoming buried in debt.
Many banks will gladly take smaller unsecured risks on business owners through personal and low-line business credit cards on 0% promotional interest rates. Business owners can acquire multiple lines of credit from banks in this fashion and gain the funding flexibility to launch their business. "Stacking" revolving credit lines in this way can actually boost credit scores after borrowers have demonstrated their ability to manage multiple credit cards over 6-9 months. Disclaimer: applying for personal and business credit cards will put hard inquiries on your credit.
Many consider credit cards to be risky, but the fact remains that credit card lending has become one of the most flexible, low-risk forms of business funding available today. Many financial advisers and business owners note that it is growing more difficult to develop meaningful relationships with bank lenders, but credit card use is proving to be the main way to "get your foot in the door" with reliable, FDIC-insured lenders.
Entrepreneur Funding: Lead Generation
If your business manages low overhead costs, you might seriously consider steadily building your client base through organic ramp-up. In the sales environment, this method is known as lead generation.
Lead generation is not entrepreneur funding in the traditional sense (a one-time high influx of working capital), but it does allow for the entrepreneur to grow into their industry without debt or profit sharing. Sound lead generation takes patience and hard work, but building a business without debt is an amazing achievement.
Inbound Sales Marketing
At Coda: Intentional Entrepreneurs, we strongly recommend becoming acquainted with a concept known as Inbound Sales Marketing. In short, potential clients are attracted to you as you engage prospects in meaningful conversation. You can "converse" with your target audience through strategic social media engagement and content marketing. Any conversation you use to attract clients needs to be relevant, easy to understand, and not "salesy."
In my experience, the best resource for developing an inbound mindset on your own is Hubspot. You can become inbound certified for free and begin incorporating a robust inbound sales mentality into your business. If you have the extra cash to jump-start your content marketing with the ultimate goal of inbound lead generation, talk to a specialist with a strong reputation in the industry.
Why is having a good website such a big deal?
For the best lead generation, you must have a classy, functional website. Avoid building your own website (unless you are truly experienced). Hire a specialist and do not expect to pay less than $3,000 for a website without the bells and whistles. A good website is key for Search Engine Optimization. In this digital age, it is important that your target audience be able to find you easily.
Do you network?
If your target audience is local, take steps to network at professional events. Develop an elevator pitch in which you can easily describe what you do in 60 seconds or less. While networking, it is important to approach an event with a research mentality: What is my local economy like? What makes these other businesses succeed?
When approaching other professionals, come equipped with probing questions about their work. Listen actively. When they ask about your business in return, don't throw the kitchen sink at them. Tell them just enough to make them want to ask more questions.
If you engage in meaningful conversation with a peer, ask for a one-to-one meeting over coffee. Don't spend too much time with any one individual at a networking event; instead, allow yourself to develop a wider network of referral partners. If you walk away from an event with 2-3 scheduled one-to-one meetings, then your efforts are a grand success.
Rookie networkers should seriously consider investing in a Business Network International (BNI) membership. BNI groups are highly structured and help professionals learn the important concept of "givers gain:" by actively passing referrals, great referrals return to you.
Just Curious – Why is it so Important to Protect Your Credit Score?
I would be remiss as a business consultant if I did not put pressure on the notion that temporarily losing a good credit score is a bad exchange for getting great business funding. This exchange can be particularly beneficial when your personal credit stands to bounce back in greater strength after using it to acquire business funding.
What is a good credit score?
Good scores start at 650 and go up from there. Someone who sees their 800 credit score dip to 700 needs to realize that their credit is still top notch: they can buy a home, get a car loan with a super-low interest rate, and more.
Various debt accounts report on your credit score differently. Home mortgages or car loans will report as installment loans, which are different from revolving debt (credit cards or lines of credit). When applying for a loan, lenders will react differently to certain loans reporting to your credit. For example, revolving credit lenders tend to not worry about an installment loan on your credit as long as your payments are up-to-date. Those same lenders, however, will flag you immediately if you carry a credit card balance above 50% of that card's credit limit.
A new loan or credit card will lower your credit score just because it is a new account. A credit score grows with length of credit history per account. When you pay off a car loan or home mortgage, your credit score could drop as many as 100 points due to the fact that a long credit history with one lender has been wiped from your credit history.
In a culture where people borrow for homes, cars, school, and general spending, very little can be done to prevent a credit score's fluctuating at all. If you are serious about launching your business, you must be willing to put skin in the game yourself before using someone else's money. That being said, if you have a great credit score, you should seriously consider leveraging it for business funding.
If you are serious about launching your business, you must be willing to put skin in the game yourself before using someone else's money. That being said, if you have a great credit score, you should seriously consider leveraging it for business funding.
Borrowing power is everything in business, and a good credit score is the currency of borrowing power
Use it wisely. Flex it a bit to see it continue to increase. There is no point in having and maintaining a good score if you never leverage it for your benefit. And what better benefit for an entrepreneur than launching a business?
If you are willing to consider options for leveraging your credit score for reliable entrepreneur funding, consult with one of our Coda business development managers. Coda: Intentional Entrepreneurs can assist you in making these financial decisions before any inquiries are placed on your credit.